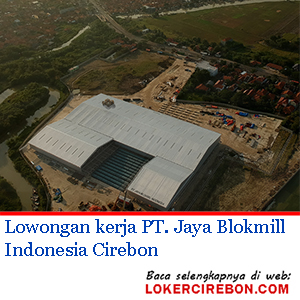 Nama Perusahaan: PT. Jaya Blokmil Indonesia
Jam Kerja : Full Time
Lowongan kerja terbaru PT. Jaya Blokmil Indonesia
1. SUPERVISOR FINANCE , ACCOUNTING & TAX
JOBDESC:
Summarize monthly and annual accounting data and report it to the manager
Manage and oversee the daily operations of the accounting department including :
Monitor and analyze accounting data and produce financial reports or statements
Establish and enforce proper accounting methods, policies and principles
Coordinate and complete annual audits
Collect cost information and maintain an expenses database
Reconcile the VAT In and VAT out froma the ledger to SPT and vice versa
All withholding tax reporting
Follow industry trends and track changes related to taxes and accounting
Liaise with internal and external auditors
Forecast tax predictions to senior managers
Be familiar with Tax
Ability to communicate in English above conversational level
Be familiar with Accounting
Working experience in Finance , Accounting and Tax department over 3 years
Salary : Rp 5.000.000 – Rp 7.000.000
Facility: Mess (Luar Kota)
2. PRODUCTION SUPERVISOR
JOB DESCRIPTION :
Accomplishes manufacturing staff results by communicating job expectations; planning, monitoring, and appraising job results; coaching, counseling, and disciplining employees; initiating, coordinating, and enforcing systems, policies, and procedures.
Maintains staff by recruiting, selecting, orienting, and training employees; developing personal growth opportunities.
Maintains work flow by monitoring steps of the process; setting processing variables; observing control points and equipment; monitoring personnel and resources; studying methods; implementing cost reductions; developing reporting procedures and systems; facilitating corrections to malfunctions within process control points; initiating and fostering a spirit of cooperation within and between departments.
Completes production plan by scheduling and assigning personnel; accomplishing workresults; establishing priorities; monitoring progress; revising schedules; resolving problems; reporting results of the processing flow on shift production summaries.
Maintains quality service by establishing and enforcing organization standards.
Ensures operation of equipment by calling for repairs; evaluating new equipment and techniques.
Provides manufacturing information by compiling, initiating, sorting, and analyzing production performance records and data; answering questions and responding to requests.
Creates and revises systems and procedures by analyzing operating practices, recordkeeping systems, forms of control, and budgetary and personnel requirements; implementing change.
Maintains safe and clean work environment by educating and directing personnel on theuse of all control points, equipment, and resources; maintaining compliance with established policies and procedures.
Maintains working relationship with the union by following the terms of the collective bargaining agreement.
Resolves personnel problems by analyzing data; investigating issues; identifying solutions; recommending action.
Maintains professional and technical knowledge by attending educational workshops; reviewing professional publications; establishing personal networks; benchmarking stateof-the-art practices; participating in professional societies.
Contributes to team effort by accomplishing related results as needed.
Salary : Rp 4.000.000 – Rp 5.000.000
Facility: Mess (Luar Kota)
CARA MELAMAR
Kirim CV dan lamaran ke alamat email:
bayu.kusuma@palubs.com