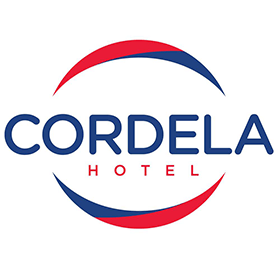 Established in 2013, Omega Hotel Management (OHM) is engaged in the hospitality management and currently manages more than 18 hotels with unique and exclusive brands, namely Signata, Cordela Suites, Grand Cordela Hotel, Cordela Hotel, Cordela Inn, Cordex Hotel, and Alfa Resort.
OHM is a hospitality management company under Alfaland Group, a subsidiary of AlfaCorp, a well-known leading investment company engaged in retail (Alfamart, Alfamidi, Alfa Express, Lawson, Dan+Dan, etc.), food and beverage (Ichitan, MyRoti, etc.), expedition (Alfatrex), Tour & Travel (Omega Travel), Education (Universitas Bunda Mulia) and property & hospitality (Alfaland Group).
Cordela Hotel Cirebon
We are currently looking for a team player who strive to give excellent service and pursuing an unforgettable customer experience in one of our bleisure traveler' hotels. It's your turn to grow in a very dynamic hotel, that engages friendly environment, promoting Indonesian culture heritage, and bringing innovation with strong corporate culture.
HEAD CHEF
CHEF DE PARTIE
COOK
PASTRY COOK
STEWARD SUPERVISOR
General Requirements:
Candidate must possess at least Diploma degree
At least 2 years experience in the same position
Creative, Innovative & Focus on Guest Experience Good leadership and Communication Skill (HC,CDP,SS)
Good Interpersonal & Attitude
Placement at Cordela Hotel Cirebon
For Indonesian Citizen only

Please send your application & update CV with subject position to :
cirebon.hrd@cordela-hotels.com
With subject email : Position – web lokercirebon.com
Ditutup Tgl: 9 December 2022