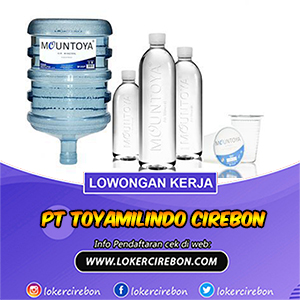 Lowongan kerja QA & QC Head PT. Toyamilindo
Started as a company producing bottled water, especially mineral water, since 1990 until now PT. TOYAMILINDO has gone through various processes to grow into a producer of mineral water with various innovations that have been made. Supported by a solid and loyal team of PT. TOYAMILINDO, creating the best products with the MOUNTOYA brand. Very elegant and different products from mineral water producers that already exist in Indonesia.
Mountoya is hiring now for:
Job Requirements:
Candidate must possess at least Bachelor's Degree in Engineering (Bioengineering/Biomedical), Engineering (Chemical), Food Technology/Nutrition/Dietetics or equivalent from reputable University with minimum GPA of 3.00 (scale of 4.00).
Required Skill(s): Knowledge about GMP & Food Hygiene, Food Safety, Quality Management, ISO 22000:2018 & Halal.
Excellent to operate computer (MS Excel etc), and having knowledge to arrange and organize data into dashboards.
Having good leadership skills, able to manage and direct team.
Able to work independently as an individual or in a team.
Willing to be placed in Cirebon.
Having Experience as QA & QC Head min 1 year.
Job Descriptions:
Manage tasks with Corrective Action and Prevention for the part related to product returns and complain & Corrective Action & Prevention for the part related to the findings of the internal audit, external: customer, ISO, SNI, and Halal.
Help FSTL to coordinate the audit from external (ISO, SNI, and Halal).
Monitoring and evaluating the implementation of quality management systems and food security
Monitoring, reviewing, and conducting performance Quality Systems & Compliance unit.

Send your CV to email:
[email protected]
With subject : QA & QC Head
Ditutup Tgl: 25 August 2022