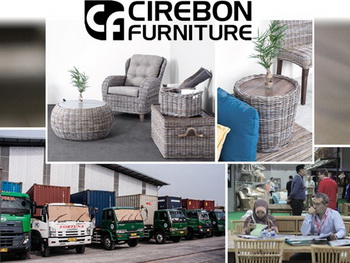 PT. CIREBON FURNITURE established since 2000 is one of Cirebon largest Rattan/Wood Furniture manufacturing companies exporting to 120 countries all over the world. We are part of Indonesia's biggest export sectors with substantial growth potential. We have 500 production workers and wood working machinery under 30.000 sqm of covered factory area. Our office consist of experienced and young energetic internationals and locals creating a modern and forward thinking team. We are now seeking for good talents to join us as Junior Marketing Administration Staf (JMA20).
Job Descriptions:
– Create Invoice & Packing List
– Order follow-up to customer and production department
– Documentation and labelling
– Participating international furniture exhibition
Major Skills:
– Very good in office software (ex. Ms. Excel, Ms. Word) and internet (E-mail, Browser, etc.)
– Fluent in English (both oral and written)
– Fast, efficient and reliable
Requirements:
– An attractive and persuasive Female, age 21-27 years old
– Minimum education: Diploma (3 years graduate)
– Able to work both as team member and independent
– Able to work under pressure and tight deadline
– Experience in Marketing Administration is a beneficial point
– Fresh Graduate are welcome to apply
Salary Range:
2.500.000 – 4.000.000
Incentives:
– BPJS
– Transport
– Lunch
Working on site:
PT. Cirebon Furniture
Blok Simalang RT.016 RW.004
Desa Pangkalan Kecamatan Plered Kabupaten Cirebon 45154
Jawa Barat – Indonesia
ph. +62 231 322 923
fx. +62 231 322 924
Working Hours:
Monday ? Friday at 08:00 – 16:00 (1 hour break)
Saturday at 08:00 ? 13:00 (no break)
Send your application by Post (or courier) or by e-mail to:
arsyecf@gmail.com with keyword on subject 'JMA20'.