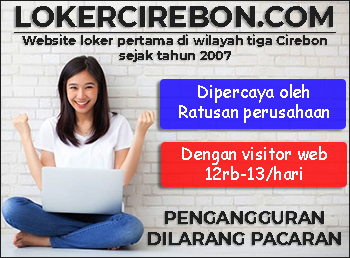 Lowongan kerja PT Cirebon Energi Prasarana
PT Cirebon Energi Prasarana (CEPR) didirikan pada 2007, CEP adalah konsorsium multi-nasional yang diperkuat nama-nama besar dalam industri energi dan infrastruktur Asia: Marubeni Corporation, Indika Energy, Korean Midland Power (KOMIPO), dan Samtan Corporation.
PT Cirebon Energi Prasarana (CEPR), C2 Coal Fired Power Plant (CFPP) 1 x 1000 MW Ultra Super Critical is hiring Talents (current stage construction and commissioning). Urgently required!
Boiler Maintenance Engineer
Requirements:
Min. 10 years of experience in CFPP with 6 years of experience in Engineer position
Bachelor's degree in Mechanical Engineering or related study of power plant is preferrable
Experience in large capacity CFPP (above 660 MW) with Super Critical Boiler will be an advantage
Experience in conducting preventive, corrective maintenance for equipment's of main boiler (burner, ignitor, furnace etc.) and auxiliary system (fuel/coal system, air transport system, flue gas system), machinery parts and ash transport system.
Experience in unit outage and maintenance overhaul
Experience managing team members (subordinate)
Clean track record of 3rd party vendor management
Proven active English communication skill (verbal and written) is a must
Willing to be involved in pre-commissioning activities and pre COD planning and preparation
Willing to work in Cirebon

Send your Latest CV in English (max 1MB)
recruitment@cirebonpower.co.id
Subject email : posisi yang dilamar – web lokercirebon.com
Only applications sent to this email and shortlisted candidates will be contacted.
Ditutup Tgl: 22 February 2022